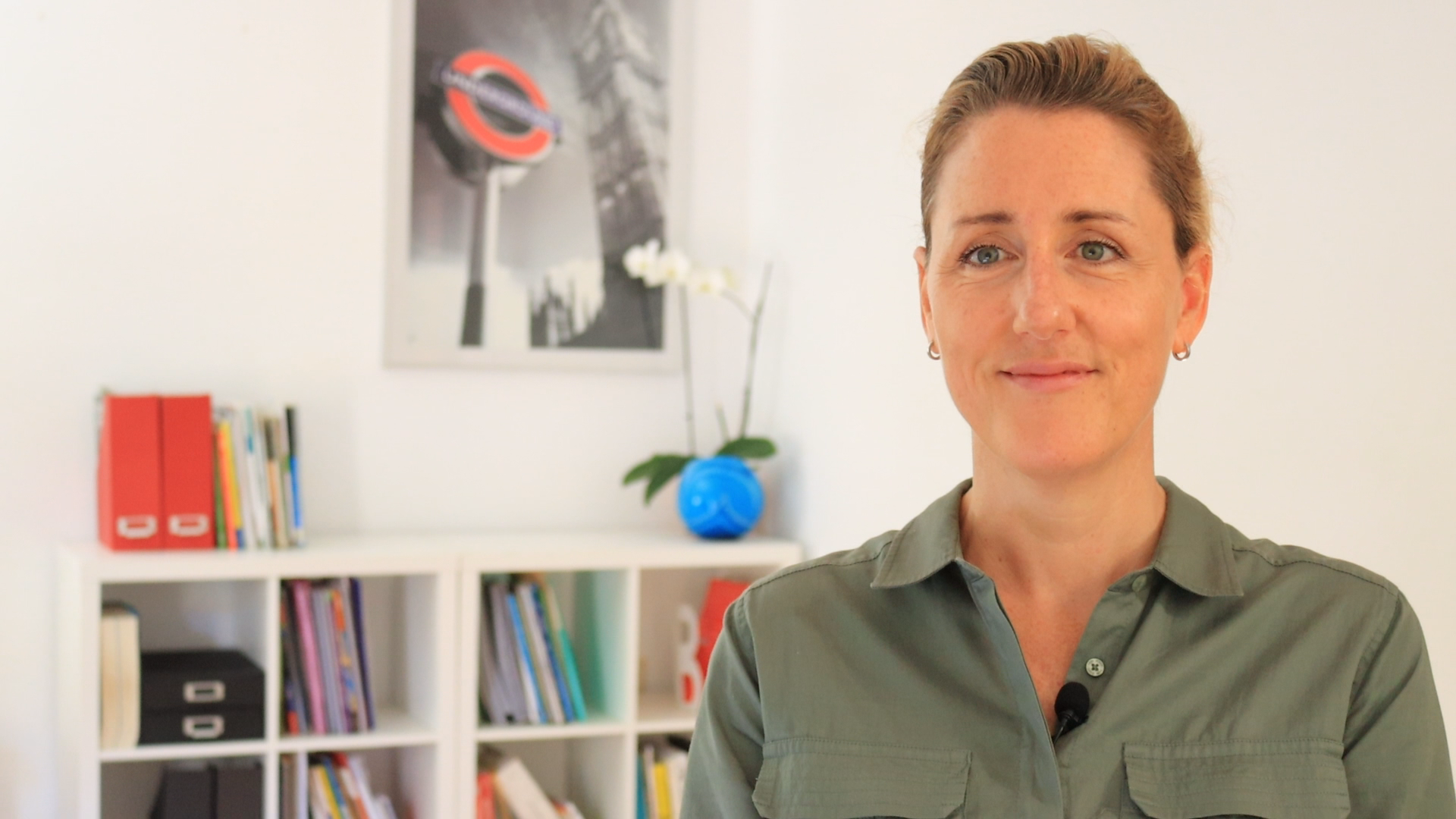 Our co-founder
Isabel M. Malone
Teaching is a passion. Even with my growing management responsibilities I always find time to teach. I need it, it allows me to understand our students` needs. It helps me to plan the best possible classes for every course run by me and my team.
Isabel is a British native English teacher, CELTA accredited by the University of Cambridge, United Kingdom.
She co-founded Learn English Fácil more than 12 years ago. She designs the courses, train her teachers and is in charge of the follow up of every running program in the academy.
Prior to dedicate more time to teaching English she spent over 10 years as a sales executive in Business Information, Finance, IT, Law and Media sectors for the United Kingdom, Nordics countries, and Spain.
Isabel has created her own English grammar platform. It allows students to study and review the necessary grammar points needed to validate their English level through self-study with total flexibility.
In February of 2023 this English grammar platform with be accessible to anyone who would like to review their grammar at their own pace through an online self-study service.
¡Me gustaría probar la plataforma de forma gratis!
Utiliza el siguiente formulario para comunicarnos tu datos (nombre / apellido / correo electrónico). Nuestro equipo te mandará un correo electrónico con un enlace para crear tu contraseña. Tu nombre de usuario será tu correo electrónico.
Gracias por tu interés!, te mandaremos un correo electrónico para crear su contraseña. Tu nombre de usuario será este mismo correo electrónico.
A veces nuestros correos llegan a la carpeta de no deseados o "SPAM".
Hasta pronto en la plataforma!!!
Cursos "completos" de gramática inglesa de nivel B1/B2 /C1

acceso 3, 6, o 12 meses
Pruebar algunas secciones gratuitamente: tienes primero que entrar y crear tu cuenta gratuita.
Si quieres seguir con el curso completo en la parte "premium" te pediremos incorporar tu datos personales y las de tu tarjeta bancaria para comprar el curso completo.
Uso de la plataforma prohibido para menores de 13 años!
Cours de grammaire anglaise complet - Niveau B1/B2/C1
Accès 3, 6 ou 12 mois
Essayer les cours de grammaire B1, B2 C1 en autoapprentissage gratuitement. Quelques sections du début de chaque cours vous sont offertes gratuitement. Afin d´y accéder vous devez entrer et créer votre compte gratuit. Si vous désirer continuer et accéder au cours complet (la partie "Premium") vous devrez introduire vos données personnelles et celles de votre carte bancaire afin d'acheter le cours complet.
Usage de la plateforme interdit aux enfants de moins de 13 ans!
Qu´est-ce qu´un
"taster course"?
Il s´agit d´un petit/mini-cours, gratuit, qui vous donne quelques exemples de ce que vous trouverez dans le cours complet.
Si vous choisissez le "Complete Course" Vous aurez accès à quelques sections GRATUITES et ne serez facturé que si vous vous INSCRIVEZ pour la section PREMIUM du cours.
Usage de la plateforme interdit aux enfants de moins de 13 ans!
¿Qué es un "Taster Course"?
Es un pequeño/mini curso gratuito que te da algunos ejemplos de lo que encontrarás en el curso completo. Si eliges el "Curso completo", tendrás acceso a algunas secciones GRATUITAS y solo se te cobrará si TE INSCRIBES en la sección PREMIUM del curso.
Uso de la plataforma prohibido para menores de 13 años!
GARANTIE DE SÉCURITÉ NOUS UTILISONS L'UN DES SYSTÈMES DE CRYPTAGE LES PLUS AVANCÉS SUR LE MARCHÉ.
Les informations de cette page sont traitées et cryptées en toute sécurité à l'aide d'outils de cryptage et de prévention des fraudes de premier plan.
Usage de la plateforme interdit aux enfants de moins de 13 ans!
GARANTÍA DE SEGURIDAD: USAMOS UNO DE LOS SISTEMAS DE ENCRIPTACIÓN MAS AVANZADOS DEL MERCADO.
La información de esta página se está procesando y encriptando de forma segura usando herramientas de encriptación y prevención de fraudes líderes en la industria.
Uso de la plataforma prohibido para menores de 13 años
How do you create a FREE account
and enrol to a course or test?
¿Cómo crear tu cuenta GRATUITA y
añadir un curso o una prueba de nivel?
Created with